The programmer of the Porn Film Festival Berlin entrusts Dorcel with the exclusive VOD distribution of her "HardWerk" production studio.
Paris, 26th April 2022 – After Erika Lust, Anoushka and Bellesa, Dorcel is proud to continue to promote the feminist pornography movement by signing a VOD distribution partnership with iconic Spanish director and producer Paulita Pappel, who founded the Hardwerk studio with Rod Wyler (also the co- director of all the films). Engaged in Berlin's queer feminist community for more than a decade, Paulita Pappel has been an advocate for a positive culture of sex and consent and addresses societal taboos about sexuality through her creations. Dorcel is now the exclusive VOD distributor in Europe, the United States, Canada and Africa, excluding the web, of the HardWerk studio's films.
Founded in 2020, HardWerk Studio revisits multi-person sex scenes from a feminist perspective with highly polished cinematography. "At HardWerk, we choose our collaborators and partners carefully. We want to work with companies and people who fit our philosophy and purpose. That's why we're thrilled to work with Dorcel, an established and worldwide recognized brand that stands for quality films and fair production standards. We are confident that our productions are in good hands," says founder Paulita Pappel.
Paulita Pappel was born in 1987 in Madrid and has lived in Berlin since 2005. She was attracted to adult films at an early age and shot her first scenes as a performer in 2010, notably for Erika Lust. She then created the "couple friendly" platform lustery.com in 2016 and began directing and producing her own videos. She quickly became an icon of the alternative porn scene and the Berlin feminist queer community. She founded the HardWerk studio (hardwerk.com) in 2020. Paulita Pappel is also an intimacy coordinator for mainstream studios and a programmer and curator for the Porn Film Festival Berlin since 2013.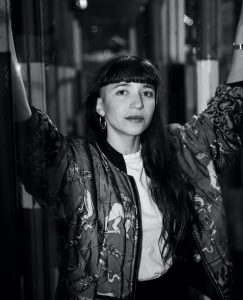 © Lukas Papierak
Logos, interview and portrait of Paulita Pappel are available on request from presse@dorcel.com.